A perfect time to visit NY? (I'm not crazy)
9:42:00 PM
Yes it's pretty worrying that it's only late-July and I am excited for Christmas.
Always have always will.
Although I have always been a tradition lover when it came to xmas season and wanted to spread all the family joy around by decorating the house and filling up the home with cinnamon and pine tree scents...
Last xmas was a certainly changing one for my views on the festivities. However instead of slipping into denial or depression (read breakup with xmas) I decided I am going to enjoy my fav holiday of all time no matter what. And i knew 2016 xmas can be challenging and hard, so i decided to spend it abroad with friends (or just one, whatevs.). Running? Nah honey, i see it as acting. No way I am going to go through the holiday blues when i know i love the feeling of cozy evenings, candles, xmas films and stories (i'm such a freak i re-re-re-read A Christmas Carol by Dickens every December). Enough of crying around and trying to win a ticket to spend my xmas abroad with my stories... There was no second left to thinking about a destination when the plan came up. Who can make you feel entertained and busy 24/7 so not to think about other stuff not even for a second? that's right Miss NYC does.
NYC sure does get the holiday spirit. Who doesn't like the winter holidays, especially abroad? Sure NY can be visited all year round, and locals told me the best time is September but oh well... how can you argue with a xmas & big cities lover? The glamorous city looks festooned in dazzling lights and exaggerated decor all around, and sure brings lots of tourists -which might be our main reason to start thinking about xmas NOW.
Browsing some info on what to see, what to avoid, curiosities, etc. I found a lot of interesting stuff i wanted to share:
DO:
- Rockefeller Center Plaza (The center of xmas itself) and fall in love with the big tree (there since 1931, now boasting 45.000 LED lights). Crowded but worth it.
- Macy's elaborate Santaland (scene of xmas trees, elves, toys and snow all around.
- Window-shop. All department stores GO BIG on the dressing up for the season.
DON'T:
- my bestie will be angry at reading this but i know she will try anyway. I heard some advice on NOT going for the
ice-skating ring
due to its prices and queues (up to 2h), though the one in Central Park is bigger and a bit cheaper (it's sth!).
-choose weekends to visit department stores. Better to go mid-day or before shops open.
Interesting facts
Dyker Heights xmas lights
: there is a
neighbourhood in Brooklyn that goes bonkers with the xmas lights
. So far i have seen that on movies (that we keep on watching because they are on TV every year...) but it is apparently true that some Americans lose their minds when it comes to lighten the season up. This Christmas extravaganza is absolutely crazy and therefore I MUST witness that.
Caroling in Washinton Sq Park: I am such a xmas freak i actually enjoy some caroling during the season. WINE NOT (yes, wine. it will be required by my bestie to cope with so much cursiness) going and see it in person? Im sure the feeling must be incredible. So I heard there's some caroling when the tree is lighten up. Can we join (that might ruin the magic but you're once in NY for the celebration..)
Aaaand well done lau, so much talking about NY + xmas together really got me in the mood so I'm guessing tonight after the dinner+drinks with the girls I'll go for some FRIENDS xmas episode... perfect combo in scorching July. And despite the fact that I'm meeting them in 25 min and still here wearing sporty clothes (read guy basketball stuff -i can't help it, it's the best to wear around the house) and no makeup on whatsoever... go tthe feeling i'll have to be a bit fashionably late today.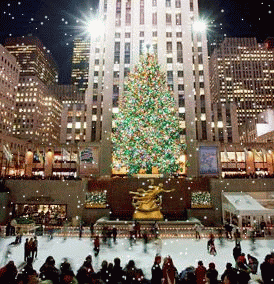 Repeating i'm not crazy just excited for the holiday plans... who's been to ny at xmas?
xx
lau