Oops I'm in Prague again!
11:59:00 PM
I can't help it! Like great
Kafka
said, Prague never lets you go.
Sure there are places you can't never get rid of and you would visit over and over again
, repeating places or discovering new ones -which is what I intend to do in this solo trip. There are things I left unseen in Prague such as the
libraries
(the most magestic one in the world they say),
Jewish quarter
and
Kafka Museum
(why lau? why didn't you go on previous trips?) and funny as it seemed when I said "I still have Czech crowns at home. mm there's no option I have to go back to spend that or it will be lost money" ha ha here I am with my coins! So far I have spent some hours in Prague and I know I should head for the bed but oh well...
Arrival in Prague
Writing this from the
Vinohrady
apartment (love love this neighbourhood) I feel like Carrie Bradshaw writing from her apartment near the window "I couldn't help but wonder..." I still don't know what makes me cling on to this city in such a way I spend my few days off here -having been twice and not very long ago..
They say you have to travel by yourself at least once in your life and I certainly did that but my stay was for a year and of course I made friends there and was constantly with people so that was different from this. Now I wanted to clear my mind a bit from all that stress that was bringing me down at home and the moment I stepped in the district of Vinohrady I already felt officially ON HOLIDAYS. The first time I came to Prague we went for the hotel in the centre which might be OK if you think in terms of moving around etc. but I wasn't expecting a frigg*n tram every 10 minutes at night -sleepless lau remains even more sleepless.
NO honey no
, second time I decided Vinohrady it was, since I had previously went to have dinner at
Dish Fine Burger Bistro
and loved the district (10min walk from
Wenceslas Square
). Lo-ve-ly. Very local and stylish. Full of lovely cafes restaurants, the theatre which is amazing, parks... *hearts on eyes* Each time I come to Prague there's no doubt where I'll be staying.
Taxi
Since Prague
taxi drivers
are known for their abilities to fool tourists...
no honey no -not this time-
I booked a shared taxi online and when I got off the plane I saw them waiting for me with my name on a paper. I shared the taxi with three other passengers and though you know it's going to take more time than going straight to your place -hey it's
a different way to see even more of this city
! The first stop was somewhere I didn't know it belonged to Prague... we went so far I got a bit lost but I got to see nice streets and since the woman's apartment was kinda uphill.. I got to see a very nice
panoramic view
of lovely Prague. The taxi driver tried to have a conversation with us and he was very interested in whatever we talked about- but of course when you mention you are from
Barcelona
everyone starts praising it and talking about their visits to the Catalan capital (always good to hear about!). Then the guy told me he watched a basketball game (warninggg did he mention the only sport I like?! lucky lau & poor guy for what's to come) and he loved
Pau Gasol
of course, but there comes my freaky side talking about THE couple of Czech players I know and admire enormously. Whatevs, the man gave us drinks and a book about Prague and I only paid 11 euros. Try to pay that in Barcelona from airport to your hotel/house... HAH HAH HAH. Also when I talked to him with the few words I know in Czech the guy became my fan already and all the street noticed that "that's very brave and admirable, this is the best school and best thing to do,
if you speak Czech, locals love you"
to what I replied in a lower voice of course -same happens with Catalan ;)
Arrival at the apartment
When I got to the apartment and rang for Michal to come down he directly gave me the keys to the apartment and asked me the typical and obv questions about the flight and Barcelona weather etc etc. So far I am loving this place and I can't wait to start my journey tomorrow. Although like the lazy cow I am sometimes, I only know I am meeting a friend downtown and heading to Terezín by bus. I know I should go and sleep because tomorrow a long day awaits but I can't stop checking Facebook and Whatsapp to share everything with my friends!
After a quick shower I am mentally planing the things I will do around town on Tuesday and Thursday since I intend to visit Česky Krumlov on Wednesday (fingers crossed so I don't get lost or can't come back to Prague).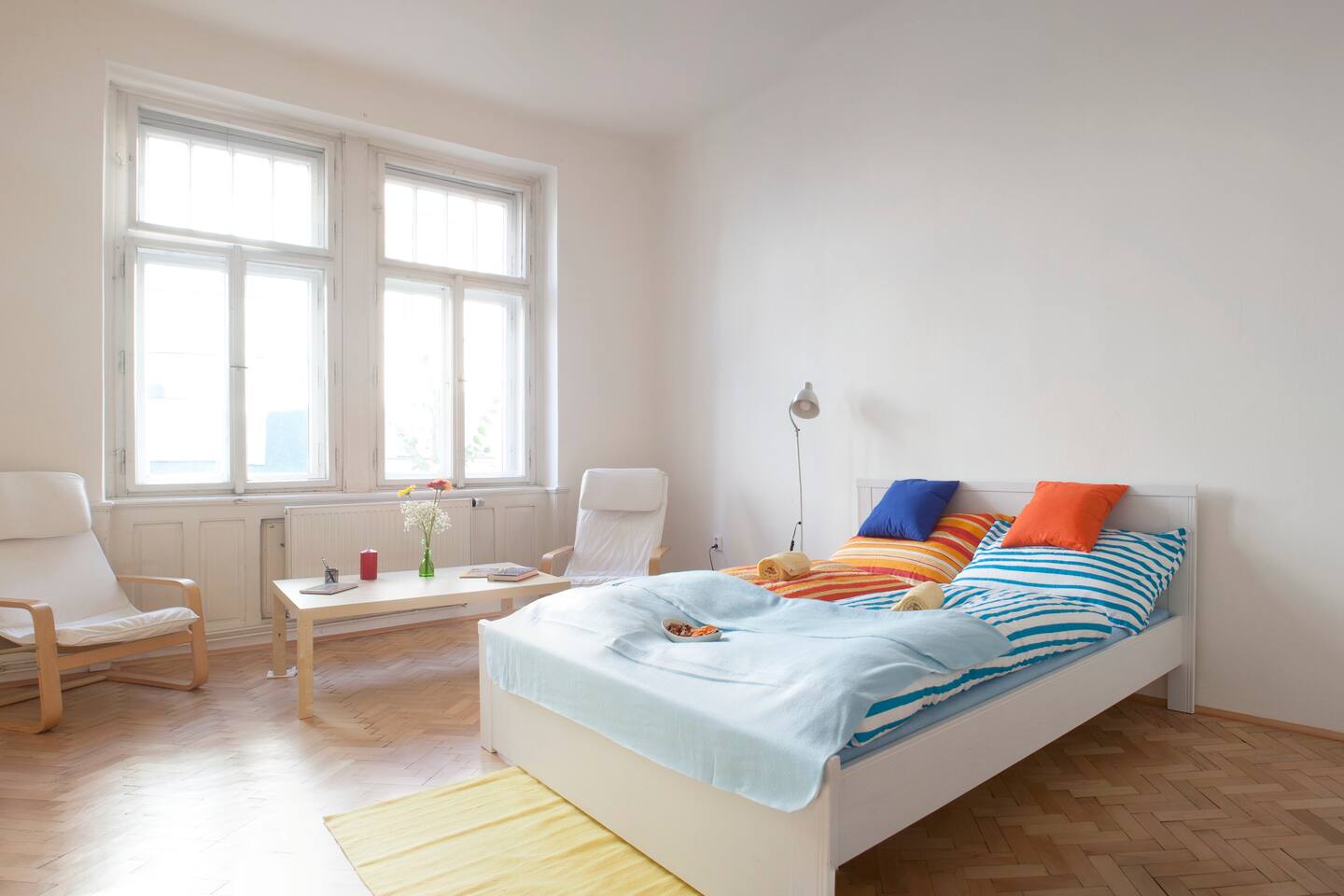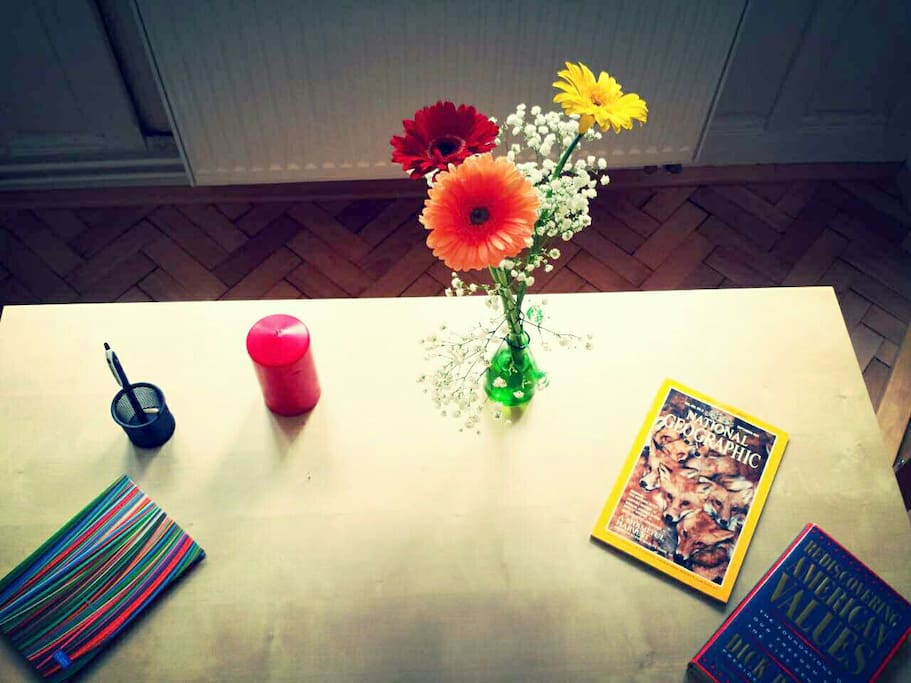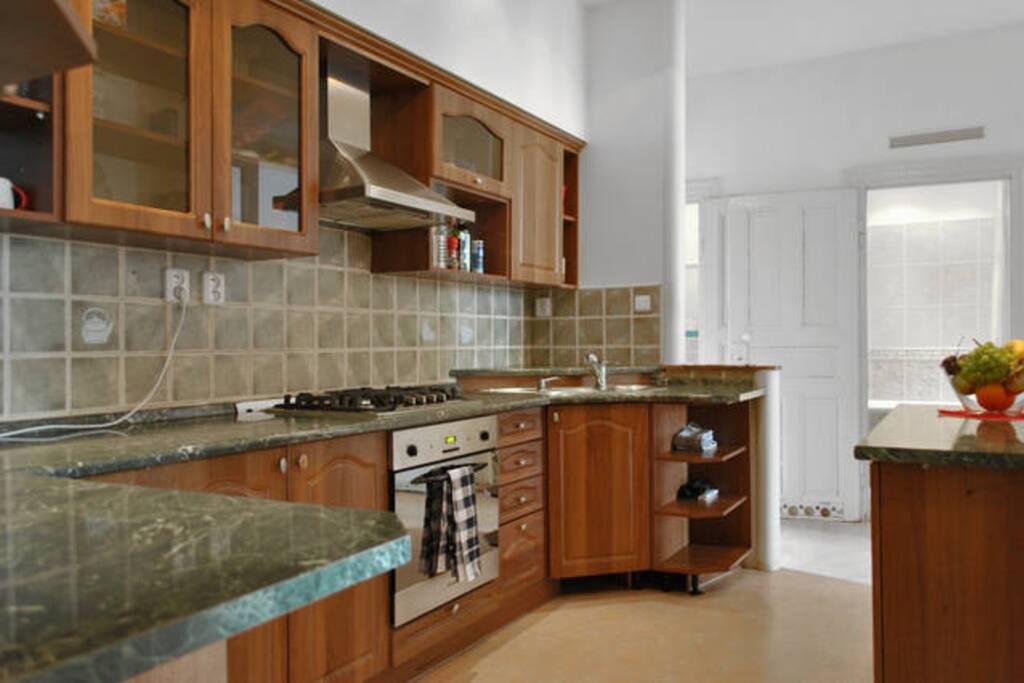 More to come if I remain sleepless and full of energy as I am now! I know tomorrow can be hard for the emotionally history content that goes with Terezin but it's like a lesson and I loved to know about WWII when I was in high school. Another experience I have not yet done.
Watching my phone ringing with whatsapp messages (gossip basically) it's time to chit chat for a bit and call it a day :)
Dobrou noc z Prahy :)
xx
lau.