What to do in NYC at Christmas
2:43:00 PM
Browsing on Pinterest I found really nice pictures of Christmas time in New York, and found some blog posts and articles about ideas to do and see in THE city and I must say it all looks so gorgeous I can't wait to get on a plane and spend my winter holidays there :)
Yes the weather can be a b* there but come on have you seen those lights and crazy decor all around? I must go only to be surrounded by so many xmassy decor and atmosphere! The city lights up into a fabulous Winter Wonderland full of details and Christmas trees.
Here's a selection of some things I found interesting to have on my list for my next December:
Have a hot chocolate with marshmallows on top
Swing on by the Miracle on 9th Street holiday pop-up bar. All cocktails are named after Christmas movies, songs or characters!
Holiday markets (it's already a lau+mou tradition and honestly they all look the same)
Ice-skating for my friend (i'm going to play the photographer role)
Fall in love with the window shops of 5th ave. Their window displays are works of art.
Peppermint Mocha in a cozy café:)
See the Christmas Tree at Rockefeller Center (also in Met Museum, Madison Sq Park, library and the one inside the Plaza Hotel and the courtyard of Palace Hotel). Since 1933 the Rockefeller Center Christmas Tree has been a tradition for many locals an tourists.
Apart from those great ideas we already had a list in mind whenever we talked about a possible future trip to NYC. Every time we watched/commented on FRIENDS/SATC/GOSSIP GIRL episodes, the topic came up. And I have always been a bit uninterested when it came to NYC -I have always been a lover for European countries and architecture. But oh well Christmas is another thing... you got me there! Having already experienced the charming winter holidays in London and Central Europe countries (they live it to the fullest), it was time to go big or go home.
Some shopping of course. And I'm guessing slatkin&co and Yankee Candles, clothes and mostly things we don't have in our country.
Strolling around 5Ave feeling a bit Serena and Blair (lol we wish)
NYC Movie spots! Home Alone much? :')
FRIENDS movie spots if possible (we MUST recreate Phoebe scene asking for charity lol)
I wish I had the time and money to watch an NBA game but oh well... bucket list
Hot chocolates and warm teas and coffees all xmasy
Top building views: Empire State Building, Chrysler building,...
Central Park walk
And many more things I can't recall now due to my hyper excitement just by thinking of it and picturing us and my bad luck around the Big Apple (already thinking of my outfits). Of course I am a freak for all things xmassy and also for fashion, so if we mix them up I can literally go crazy, and a pain in the neck to my friend if I get statue-like when witnessing those designer windows xmas-themed, all gold and glittering...
Bergdorf Goodman
Henri Bendel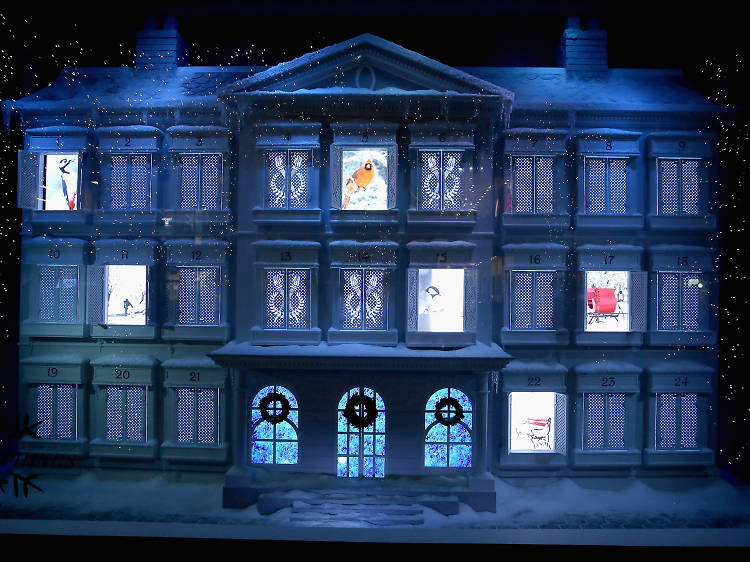 Lord and Taylor
Barneys
What are we going to find apart from all things listed above?
Empire State building lights up its top building in red and green :)
Gigantic Holiday Cheer: really big xmas ornaments are displayed around the city
Union Square Holiday Market: perfect to get some holiday handmade gifts for our friends and family
Sledding: major snow? While M slides and skates I can internally sing Sleigh Ride xmas carol.
Dyker Heights Holiday lights: please!! let's have a look about the craziness in one of NYC boroughs.
The craziness is real in that district! Dangerously in the xmas mood already, I am quite eager for fall to come, really. I am fed up with the summer weather in Southern Europe and can't wait to get chilly evenings, browns reds and yellows everywhere and fall clothes hmmm :) So despite my desperation for this holiday season trip I am not bonkers (yet).
For those of you who have already spent your xmas holidays in the Big Apple feel free to share your experience, opinions and suggestions :) I will take notes of everything!
xx
lau