4 Great restaurants in Barcelona: Aribau
5:34:00 PM
state
: praying so I can get a new apartment soon, so help me God
state2
: while writing about restaurants and stuff I just got too hungry, so what's for dinner (read delivery)?
Lately I have been visiting some apartments to find myself trying to fake my disappointed facial expression in some way but thinking "really? meh.." The other day I went home kinda upset and started being a bit productive to get my mind busy... for me that means doing my shopping (read dinner and wine), some exercice (15 min since I cannot do much with one foot injured -not that I would last a lot more lalala..), washed some clothes and prepare my sports column for tonight Barça's game. Then under thousands of blankets, when I forgot about the apartment stuff, I discovered my bedroom window can't close properly so I am considering spending the night on the couch and speeding up my new apartment search... ¬¬ (why why whY!!!)
Now grumpy-off, I really think Barcelona is my place! I used to come to the city for events, meeting friends, shopping, my master studies, etc. But only when I started working here and thus spending most of my time in THE city I realized how lovely this is and how it does suit me!:)
One of the streets I walk around the most is
Aribau
, which connects the center of the city with one of my fav avenues (
Diagonal
) and areas.
Aribau
is a very live street
full of restaurants
(I posted about the
Greek restaurant where we had my bday dinner
),
bars and nightlife
.
True to the Eixample essence, this old street with bold architecture has two main traits: during the day the street is full of people who are going to or coming from work, running errands and taking their coffee breaks (lau around?). In the upper part of the street you can see lots of businessmen in their super suits and women with fabulous stilettos, while in the lower side the atmosphere is more student-like, since you have there the beautiful building of the University of Barcelona. This changes at night as it turns into a street with the city's finest cocktail bars and chic restaurants.
Where to eat in Aribau?
LA FLAUTA
: you can find me there with my workmates on Fridays during our coffee break! (read: our brunch heehee). All businesspeople working close to Aribau
queue up for a table
here, since it's one of the most popular places in the area (not touristy). Locals love the food and treatment here and prices are affordable too!
DIONISOS Greek Restaurant
: I have come here many times and I always enjoyed the food and
Greek atmosphere
of the place. Located in Aribau 50, this restaurant is decorated as if it was a
Greek house
(all white and blue), with Greek music and great food a
nd wine (
uuuu they have my favourite wine!).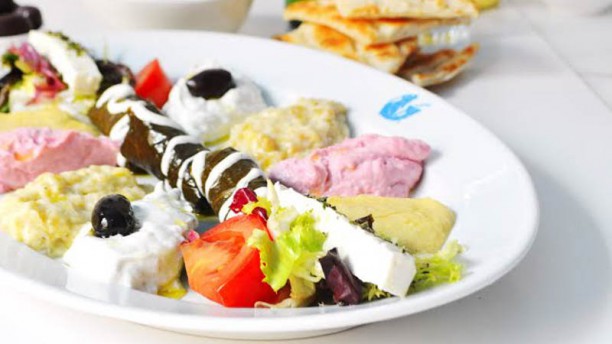 MISS SUSHI
: my friends and I are a bit (too much) addicted to sushi, so Japanese restaurants are always a non-debate option. We came here to celebrate a friend's birthday and everything was
very girly
, all in pink-white-grey-black colors. Food was good and they
served cocktails
too so we didn't have to think of any other place for the drinks.
EL JARDINET D'ARIBAU
: This restaurant (&cocktail lounge) is an
enchanted garden
itself. It looks like you are having dinner in a fairytale scene. The menu has many things to order with delicate but also simple options to try out.
These are just 4 options from everything you can find in this street, but these are the ones I tried out and did enjoy! I am sure i will continue having celebrations and meetings with friends here.
xx
lau.