We are all wonder women.
9:30:00 PM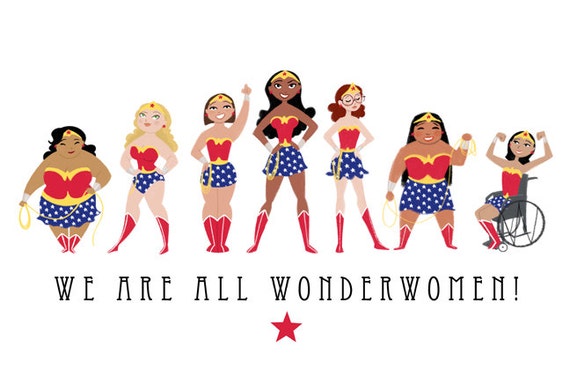 Last Wednesday was
International Women's Day
and after seeing many blog posts from fab bloggers I follow, I thought of how many ladies have worked so hard over their life and how many have reached the top and became super successful despite all difficulties we have to go through in this society. Don't get me wrong I am not thinking only about Miuccia Prada, Carolina Herrera, Donna Karan, women
who raised an empire
etc.
I mean any of us
who achieved what she wanted, since I do believe in a known quote "
A woman should be two things: who and what she wants
". But of course I am not including those who "reached" success when by success they mean a rich husband (read sugar daddy) and a stay-at-home life,
be-a-trophy
-kind of woman.
I have some friends and family members who believe in the
idea of marriage and stay at home gal
, but I never liked any of those things, not even when playing "dads and mums" at primary school (when playing I always wanted to be a busy office-woman wearing an elegant
suit and stilettos
, aged 32! -idk why the number but uuu i was so obsessed with it).
I BUY MY OWN DIAMONDS AND I BUY MY OWN RINGS
PAY MY OWN FUN AND OH I PAY MY OWN BILLS
I have always
put myself first
and have been very independent, never liked to get stuff paid for by others especially the guy I would date at the moment. Also, never been too much without a job because I'd hate the idea of staying at home and depend on whoever (parents, partner, etc.)
it's a big NO from me
. In fact I started giving private lessons and taking summer jobs when I was 16-7 until I could find a better "legal" job aged 18. I always saved money up for my expenses so my parents wouldn't have to spend money on me and I could pay for
my wants&needs
and uuu yes, trips around Europe :)
So I always
loved to be independent
(but always loyal to friends&family), though I met lots of people who depend on their partner and showed off about it -honestly I felt some pity for them and it made me
feel prouder
of who I am and the many things I have accomplished and done in my life by myself, always standing by my values.
This year for Carnival I dressed up as Wonder Woman, a superheroine -strong and determined warrior, feminist icon,representing the evolving female, not limited by what men forced them to be but rather a free and independent spirit.
And yes I admire ladies who raised an empire and those who

fight for rights

instead of watching junk tv, gold-diggers and sporty-hunters. But

sadly that image of women

is

true and especially in Spain it is still superficial and disrespectful. That makes me think of how many

unwanted situations we face daily in the street

, mostly comments (of any kind). Skirt is too short, too long, jeans are too tight, put some makeup on, wearing too much makeup, butt, boobs, pretty, ugly, skinny, fat...

Ehm.. really?




GIVING TOO MUCH THOUGHT ON WHAT WE WEAR OR HOW WE LOOK?
My friends and I often comment on how
disgusting
it is to walk around the city and hear (not overhear, no, they make sure you hear them) comments or blow-kisses from men....and despite your upset facial expression, they still smile at you.
UGH. Why is this so common in Spain?
A woman should be able to
go anywhere wearing whatever she wants
without thinking what others will say/do to her,
why can't we go alone at night in certain areas?
Why can't we wear skirt/dress in some public transport without receiving too many looks or comments? The worst part of it is that many people (and yes, women too) still judge and make us think that it is
our fault.
This year for Carnival I dressed up as Wonder Woman, a superheroine
-strong and determined
warrior, feminist icon, representing the evolving female,
not limited by what men
force women to be but rather a free and independent spirit.
I encourage all of you who have dreams (who doesn't?) to go out and make them a reality. You don't like your job? Start looking for a new one and once you get it, quit the current one (money matters hon!). You want to see the world? OK. Save up and do it. You are in a toxic relationship? Leave your partner, love yourself more than him/her.
Maybe the post was getting out of hand in terms of length but I got carried away with the many things I wanted (&still have left) to say. Anyway, after rambling about being independent and still having to face chauvinist situations, I think more and more women are becoming aware of how important it is to stand by ourselves as women and feel that we are powerful we just have to use our voice and work hard.
xx
lau.